Eva Adusei
Real Estate Agent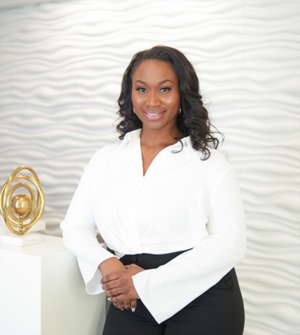 As a dedicated Registered Nurse in the bustling ER department, Eva Adusei has always possessed a deep-rooted passion for helping others. This innate desire to be of assistance, coupled with her unwavering commitment to making a positive impact, ultimately led her to embark on a new path—real estate.
The notion of guiding someone through the intricate process of buying or selling their most valuable asset ignited a sense of fulfillment and joy within Eva. She realized that by leveraging her exceptional interpersonal skills, vast knowledge, and unwavering dedication, she could make a profound difference in people's lives during these significant milestones. Eva's motivation was clear: to provide a service level that exceeded expectations and create a seamless and enjoyable experience for her clients.
When Eva first learned about the Michelle Fraser Team, it was like finding a missing puzzle piece that fits perfectly into her career aspirations. Michelle Fraser, a well-respected real estate agent with over two decades of exceptional service in the Durham area, was renowned for her unwavering commitment to her clients. So joining forces with Michelle and joining her team was a natural choice for Eva. She recognized that aligning herself with a renowned agent like Michelle would amplify her career and add immense value to her clients' real estate journeys.
Eva Adusei is an exceptional addition to the industry, bringing a unique blend of qualities that set her apart. Her love for residential purchase and sale shines through every interaction, as she devotes herself to serving her clients with the utmost professionalism. Eva's dedication to providing a seamless and enjoyable process ensures that her clients feel at ease, supported, and informed at every step. In addition, her ability to navigate complex negotiations gracefully and her keen attention to detail make her an invaluable asset to the Michelle Fraser Team.
Beyond her professional endeavours, Eva is a loving wife and mother to four exceptional children. She believes in investing in family, just like in real estate. Eva understands the importance of finding a house and a home where cherished memories can be made. Her personal experiences allow her to connect with clients on a deeper level, empathize with their aspirations and concerns, and guide them toward their dream homes.
Eva Adusei is on a mission to ensure that every real estate goal comes to fruition. Her quote, "I am here to ensure your real estate goals come to fruition," encapsulates her unwavering commitment to her clients' dreams. Eva is more than just a real estate agent; she is a guiding light, a trusted advisor, and a compassionate advocate who touches the hearts of those she serves.