Tenisha Wilmot
Real Estate Agent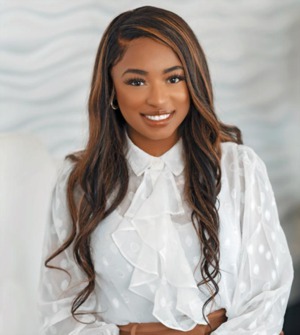 Tenisha Wilmot's path to real estate was shaped by her eight years of experience in retail management. While she found fulfillment in that role, her true motivation lay in her passion for helping people achieve their dreams and create generational wealth. She also felt a deep calling to assist the younger generation, who often believed homeownership was out of their reach.
Learning from a successful woman was paramount to her, and she recognized the importance of joining the Michelle Fraser Team to gain valuable mentorship. Likewise, Tenisha was drawn to Michelle's expertise and saw it as an opportunity to learn from a real estate powerhouse.
What sets Tenisha apart in the industry is her unique combination of patience, knowledge, attention to detail, and passion. She understands that each client's journey is distinct and takes the time to listen to their needs genuinely. Furthermore, Tenisha's commitment to staying informed about market trends and her attention to detail ensure that everything is noticed, resulting in a seamless real estate experience for her clients. But above all, Tenisha's unwavering passion for her work shines through in every interaction, making her an agent who truly cares about her client's well-being.
Beyond her professional life, Tenisha finds immense joy and fulfillment in her family. Tenisha treasures her role as an aunt to her niece. In addition, her close bond with her two sisters has been a constant source of support and inspiration throughout her life. Tenisha understands the importance of solid familial connections and extends that same level of dedication and care to her clients.
Tenisha's guiding quote, "You deserve an agent that puts you first," encapsulates her philosophy. She believes her clients deserve the utmost care, attention, and dedication. Tenisha strives to be the agent who helps her clients achieve their real estate goals and touches their hearts along the way. Her unwavering commitment to prioritizing her client's needs makes her a beacon of hope and inspiration in the industry.